The Blue Crane Hoodie SUPREME – The Next Generation Adventure Hoodie
We highly recommend watching our video below to fully experience the BC hoodie in its full glory.
30 MINDBLOWING FEATURES IN ONE HOODIE!
The Blue Crane Hoodie SUPREME is both a SLINGBAG and a HOODIE that truly tests the realms of garment possibilities.
The Blue Crane Hoodie SUPREME qualifies for FREE DELIVERY!
Or split into 4x
interest-free
payments
Learn more



No interest, no fees,
4x instalments over 6 weeks
How it works
Payflex lets you get what you need now, but pay for it over four interest-free instalments. You pay 25% upfront, then three payments of 25% over the following six weeks.
Shop Online
and fill your cart
Choose Payflex at checkout
Get approved and
pay 25% today
with your debit
or credit card
Pay the remainder
over 6-weeks.
No interest.
No fees.
You must be over
18 years old
You must have a valid
South African ID
You must have a debit or credit card
issued by Mastercard, Visa or Amex

Leave Nothing Behind.
Life in the modern era can sometimes move at a blistering pace. We don't always know what to take with us and what to leave behind, but what if you never had to leave anything behind?
The Features (click to open)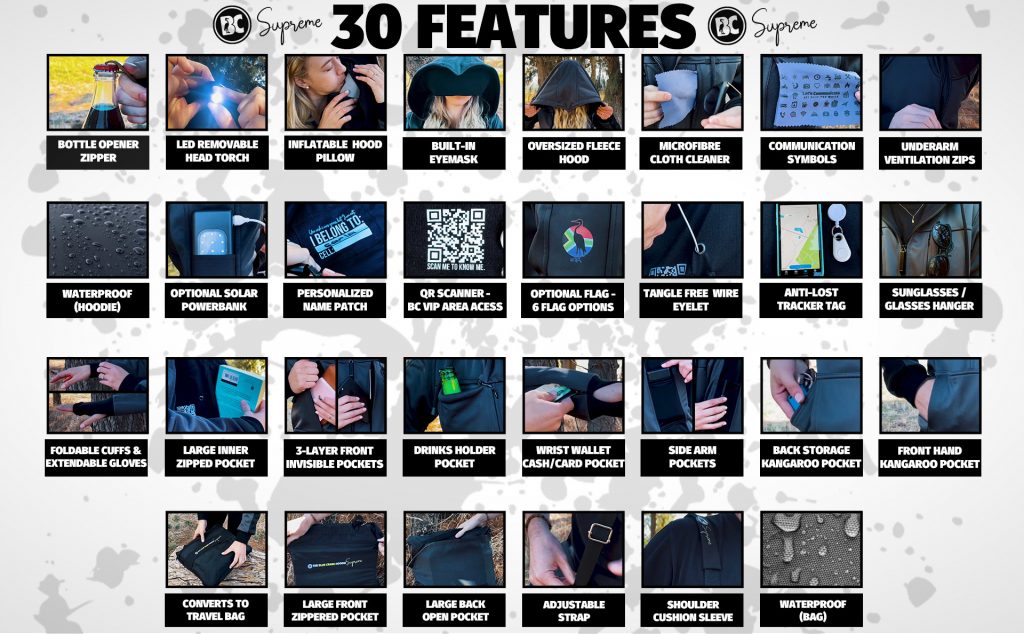 Not just a fully functional travel bag. Not just a magnificent hoodie. It's both!
Whatever the journey, The BC Supreme Hoodie is guaranteed to keep you up to the task. We've made it our goal to create an all-in-one hoodie-and-bag that is packed with creativity and innovation, but that is above all an everyday hoodie that you'll want to wear day in and day out.
From slingbag-to-hoodie or hoodie-to-slingbag in a matter of seconds!
The BC Supreme hoodie transforms from backpack-to-hoodie or from hoodie-to-slingbag seamlessly in just a matter of seconds. You no longer have to carry around a bag and jacket separately. You no longer have to try and squish everything into your travel-sized bag. You no longer have to worry about being unprepared for a sudden change of weather. You no longer have to worry. Your day becomes just that little bit easier and less frustrating with the magic provided by the Blue Crane Hoodie SUPREME.
The Hoodie
As a hoodie, the Blue Crane hoodie is, in its most natural form, a stylish and modern everyday hoodie that has been crafted with intense care and an extreme attention to detail. We've focused on creating a hoodie that is luxurious in its feel and trendy in its look that is perfect for any occasion. Only after focusing on an alluring appearance does the focus shift to the features of the hoodie. And boy are the features a sight to behold as well. The BC Supreme hoodie is integrated with 30 remarkable features that will make sure you're ready for whatever the journey of life will throw at you.
The hoodie is made from premium quality Softshell Waterproof Microfleece. The inside lining on the body is lined with 160gram cotton, giving it an instant quality feel and look. The inside of the hood is lined with Mongolian fleece, one of the softest and most luxurious pieces of fabric available.
The Slingbag
As a slingbag the BC supreme hoodie is perfectly compact in size even though there's a barely noticeable full size hoodie zipped up and hiding on the inside. In bag form you have 2 extra pockets (1 zippered and 1 open pocket) to store more than enough of your everyday essentials. It also comes with an adjustable strap and a shoulder cushion for extra comfort. The great thing is that once you've folded your hoodie up and transformed it into a bag, everything you've stored inside the hoodie's pockets will all still be on the inside of the bag, safely and securely.
The bacpack is made from 110gram high quality and lightweight Oxford fabric so that it doesn't weigh things down.
Finishing off the bag in style are two slick BC Supreme prints to give it that oh so awesometacular look.
That's actually a pretty darn good looking hoodie!?
We've made it our priority to first make a strikingly good looking and comfortable hoodie, we only then shifted concentration to all of its amazing features. We want you to never want to be without it, and for that it has to have the looks.
The look of the hoodie is inspired and stylized after the Blue Crane bird, symbolizing its travel and adventurous features. The peak of the hood and flaps on the front and back are all stylized after the beak of a bird. The BC hoodie logo is mutely added on the left chest, with a soft textured velvet finish.
The Blue Crane is South Africa's national bird, which will always serve as a subtle reminder of where your new favorite hoodie came from.
SIZE MEASUEMENTS
Additional information
| | |
| --- | --- |
| Size | XXS, XS, S, M, L, XL, XXL, XXXL, XXXXL |
| Flag | No Flag, Blue Crane SA Flag, Normal SA Flag, United Kingdom, Germany, USA, Australia, Pride Rainbow (LGBT) |
| Colour | Black, Dark Grey |
| Add Solar PowerBank? | Yes, No |