The Mellow Hoodie (The Inflatable Pillow Hoodie)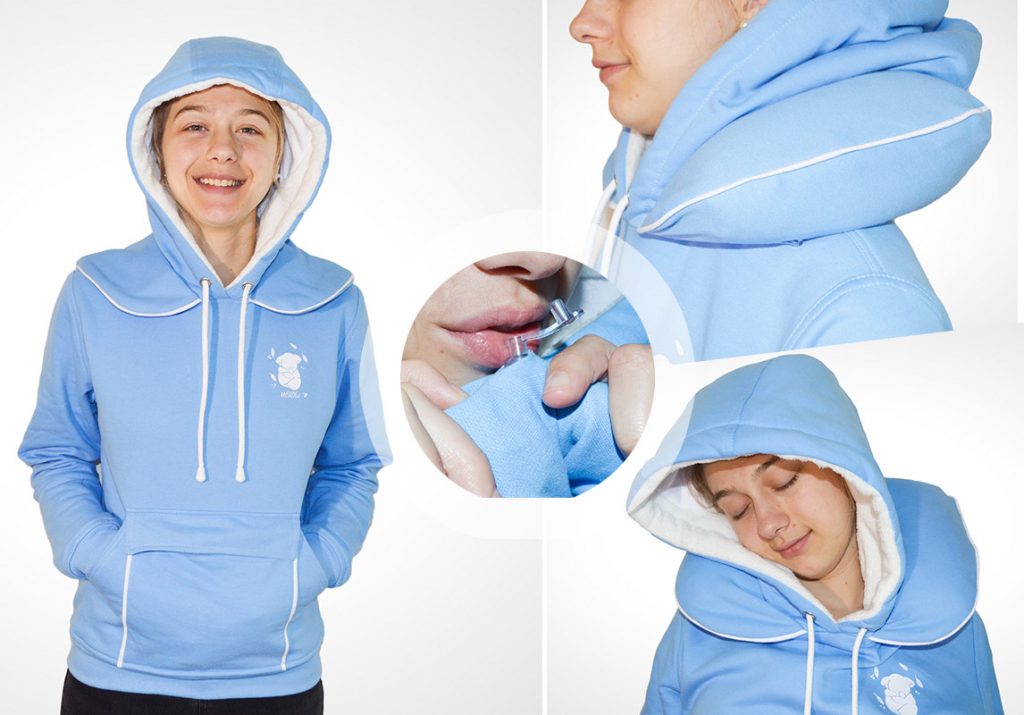 Meet The Mellow Hoodie – The Hoodie That Was Made For Your Dreams.
Please make sure you triple check our size chart before ordering your size. 
Model Wears size: Unisex XS
Did you know the Koala sleeps an average of 18-22 hours in a day? We took some inspiration from this majestically sleepy animal to conjure up what we've now dubbed as The Mellow Hoodie, the hoodie that was made for your dreams.
Not just your ordinary everyday hoodie…
At Youneek we don't do ordinary. We go above and beyond to bring you clothing that will leave you in awe. The Mellow Hoodie is no exception. A couple of features have been built into the hoodie to help you relax and ultimately fall comfortably asleep in the most uncomfortable places.
What exactly is The Mellow Hoodie and why does it exist?
Have you ever tried to fall asleep on an airplane, airport, train, bus, road trip or any kind of long distance trip? If so, you'll know that the experience of trying to get some shut eye in is always a complete nightmare. It's a bit of an unadressed problem and we want to fix it. To the rescue comes the Mellow Hoodie to sweep you off your feet and take you to la-la land in the most convenient and dream-like comfortable way possible. Anywhere. Any time.
The Features
Inflatable Pillow. Yes, that's right. The Mellow Hoodie becomes a supremely comfy neck pillow in a few easy blows. It can be inflated or deflated at any time through the valve on its side. The inflatable pillow is discreetly and oh so fashionably hidden inside a yoke styled flap beneath the hood. When deflated, nobody will even know it's there. And yes, the inflatable pilloe can also be completely removed via a zipper at the back.
Built-in Eye Mask. You never know when you'll need to take a quick powernap. With the revolutionary comfort that The Mellow Hoodie provides, it's not a hard task, you'll maybe just need to shut your surroundings out. Simply pull down the eye mask from the inside of the hood and block the rest of the world out for the most comfortable sleep you could previously only dream of having.
Mongolian Fleece Lined Hood. Mongolian fleece is renown for its luxuriously fluffy look and feel. The hood is covered in a ball of fluff to make sure your head is always as sniggly as can be.
Kangaroo/Koala Style Pouch Pocket. The stylish front kangaroo pocket has two compartments to always keep your belongings and your hands separated.
Thumbhole Cuffs.Our thumbhole cuffs give you the option to keep your hands nice and cozy at all times, as well as block out any wind coming through the cuffs – while looking like a boss.
SIZE MEASUREMENTS (Please compare measurements to another hoodie/sweatshirt/jacket in your closet. Don't compare the measurements to your own body measurements.)
*Final colours may vary slightly due to differences in the representation of colours in computer monitors.
Fit: Unisex
Type: Hoodie
Material: 230/260gram Brushed Fleece
Print Finish: Velvet Flock
Additional information
| | |
| --- | --- |
| Size | X-Small, Small, Medium, Large, X-Large, XX-Large, XXX-Large |
| Colour | Light Blue, Black |